After a long (hard) day at work, I thought I would write about some of the books I've been reading the last month and a half.
The latest book I finished was
The Physick Book of Deliverance Dane
by Katherine Howe. The book takes place in Marblehead, Salem, and Cambridge (among other Massachusetts towns), which made it easier to relate to. The book focuses on Connie Goodwin, a Ph.D. candidate, who makes an interesting discovery at her grandmother's house one summer: a key inside a Bible with a tag that reads "Deliverance Dane." This discovery leads her to search for Deliverance's physick book, or book of spells and recipes. I thoroughly enjoyed the book, especially because I love books where the narrator has to do research in archives and libraries to solve the mystery. I would recommend the book for anyone interested in early American history.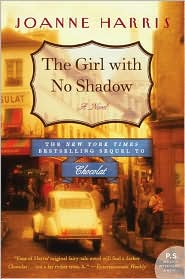 In July I read The
Girl with No Shadow
by Joanne Harris. The book is a "sequel" to
Chocolat
but is definitely much darker and more mystical. Vianne Rocher (now Yanne Charbonneau) and her two daughters are now living in Montmartre in Paris and own a small chocolate shop. One day a woman calling herself Zozie de l'Alba enters the shop and shakes up their quiet life in Paris. While Zozie brings a lot of the light back into the chocolate shop, there is also a sinister side to her presence. I enjoyed this book even more than I thought I would and spent several days entranced by the world that Harris creates.
I also read
The Angel's Game
by Carlos Ruiz Zafón earlier this month. I really enjoyed Zafón's previous book
The Shadow of the Wind
, but
The Angel's Game
never grabbed me the same way. The ending also left me cold and a little confused. Zafon's language is beautiful, however, and he always leaves you with the desire to book a trip to Barcelona.
Twilight
was also on my summer reading list, but I can't say I was too impressed. I think the story is supposed to be the best part, but since I had already seen the movie, the story didn't pull me in. At least I can say I've read it, but I don't think I'll waste my time on the other three.
The best part about reading the last month or so is that I've checked all but one of these books out from the library (my mom bought me
The Girl with No Shadow
when she was up here). I love that I can make an online request and then usually pick up the book a few days later. I'm still waiting on Lisa See's new book
Shanghai Girls
, but hopefully it will come in soon.